The annual developer conference from Google, the Google I/O 2017 has been started last night and there were many changes that were made at the event. The important announcements at the event were the updates to Google Home with features like hands-free voice calling without the need of mobiles, Google photos smart suggestions and more. The one major announcement was that Android O developer preview 2 was also released for the Nexus and Pixel devices. Google has also released a schedule for the release of Android O and the new version of Android will be released this summer. The below graph shows the steps of the Android O release process.

This list covers all the major features of the Android O Developer Preview 2. Do note that this features are availbe in the BETA form and this features may or my not make it into the final build of Android O. Also worth noting is that the Android O DP2 build may be unstable for daily usage.
Picture-in-Picture
This is a familiar phrase and tool in many televisions, within the YouTube app on Android and, yes, in iOS. Google is adding a Picture-in-Picture mode to Android O. With a YouTube video playing, just tap the Home button and the video will pop into a small window that can remain on screen as you navigate other apps on your device. You can slide the video around for best placement, then simply slide it off the screen to terminate. Available now in the Android O Beta.
Notification Dots
Android O users will see a small dot that appears over top of their app icons with active notifications. This is where the magic starts, now that your app has an icon, new tools are available – Long-press the app icon with Notification Dot to get a short list of immediate shortlink actions you can perform. This includes viewing the notification itself right there in a tiny pop-up window.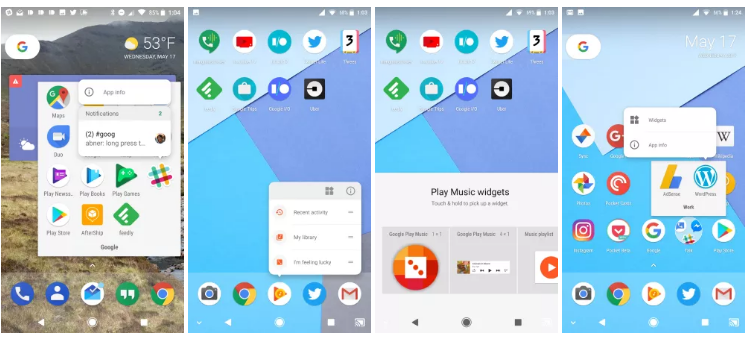 Smart Text Selection
We've all seen the basic text highlighting features, the copy/paste dialogue in Android, but now there's more. With Android O, highlighting text includes further features, using Google AI to intelligently act on the words. For instance, if you highlight a phone number, you can just tap to dial. If you highlight an address, a single tap will start navigation. Best of all, highlighting is more intelligent itself, selecting phrases or full addresses, for example, instead of just single words. On tapping the address, the Google Maps link will be shown as a suggestion with the normal selection shortcuts.
Redesigned Quick Settings
We have already seen that Android O Developer Preview 1 redesigned the settings app and adapted to a much smaller scroll. Now, the Android O Developer Preview 2 sees a redesign of the Quick Settings panel. We can see a grayscale settings app now as opposed to a dark Quick settings in Android 7.0 Nougat.

Moreover, the Android O Developer Preview 2 also consist of redesigned emoji which are 'blob-less'. The Android O Developer Preview 2 is out for everyone to download. Head over to android.com/beta to download the update to your Nexus as well as Pixel devices.