Making good of its promise of rolling out the Android 9.0 Pie stable for the Nokia 6.1, the mid-range device from the company released earlier this year, HMD Global has started the rollout of the update for the same earlier today.
HMD Global's performance with providing quick updates to its devices is well renowned. The company had at a launch event earlier this month promised that it would be providing the consumers of the Nokia 6.1 and the Nokia 6.1 Plus with the Android 9.0 Pie based update by the end of October. Its 31st October and the Nokia 6.1 has started receiving its share of the Android 9.0 Pie.
In fact, the update for the Nokia 6.1 Plus may also begin its rollout this month after all its been in final beta testing for quite some time.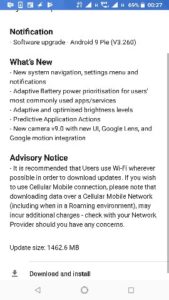 The Nokia 6.1 becomes the second device from HMD Global and is the most affordable in the world, which would be running the Android 9.0 Pie after the update. The update can be seen as another feather in HMD Global's cap of providing quick OS updates.
With Android 9.0 Pie, the Nokia 6.1 would be gaining some advanced features which utilize AI and Ml underneath the hood along with features like Adaptive Brightness and App Actions along with ensuring smoother resourcing of power and processing. App Actions is an advanced feature that utilizes Machine Learning to display predictive actions on the phone at any particular point in time. Like in the morning, it would be showcasing the Google Map's drive to work.
The update weighs 1462.6MB in size and is downloadable over a stable WiFi connection only. And as usual, the regional availability may vary by a few days.