The LG V20 device with three models such as F800L, F800K, and F800S now getting Android 8.0 Oreo update in South Korea. LG V20 was one of the mid-range flagships smartphone which includes so many premium features. However, the Android P stable version will release within the next two months still the LG started rolling out new Android OS upgrade to their devices.
The update will receive in batches via OTA. This new update version is V20c-JUL-06-2018 and the update size is around 1669.34 MB (1.6 GB approx).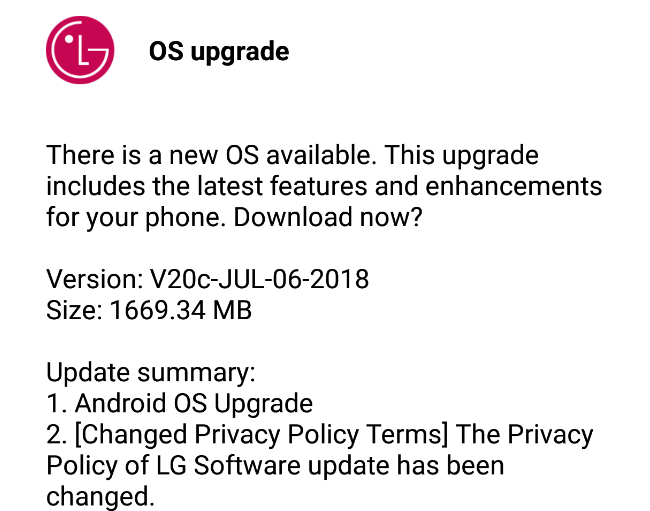 New Update Changelog of LG V20:
Android OS Upgrade
[Changed Privacy Policy Terms] The Privacy Policy of LG Software update has been changed.
[Comfort view improved] The blue light filter in Comfort view has been improved. You can now adjust between 10 levels.
[Home touch buttons improved] The Home touch buttons can now be hidden while using apps.
[Icon shapes added] New app icon shapes have been added.
[Improved Settings layout] Finding what you want in Settings is now easier than ever.
[Improved app notifications] Each app's notifications can now be managed all in one place.
[Improved notifications] The notification badge for app icons now displays according to the notifications you have in the notification panel.
[Improved performance] To improve battery life and phone performance apps now run less in the background.
[More codec supported] Sony's codec LDAC is now supported when using Bluetooth headsets that work with the codec.
[Quick info] Apps on the Home screen can now do more. You can touch and hold an app icon to see its notifications widgets and info.
As per the company, if you're an LG V20 user in South Korea then you can download and update via OTA but if you're from a different country and can't wait till OTA update, then you can upgrade your device via LG Bridge application. Therefore, you need any Windows or Mac PC to install this app and flash your device. Otherwise, it is recommended to wait for few more weeks to OTA update available for your region.
Read More: LG V40ThinQ Leaked Details: Why it may be the best Android smartphone of 2018
You can also download the LG V20 Stock Android 8.0 Oreo KDZ Firmware for the compatible model from here.
1. LG V20 (LGF800S) – F800S20c_00_0706.kdz
2. LG V20 (LGF800L) – F800L20c_00_0706.kdz
3. LG V20 (LGF800k) – F800K20c_00_0706.kdz
Please Note: Please take a full backup of your device data before update or flash. If your device bricked during OTA update or flash, then you can easily restore your device by flashing stock ROM version through LGUP Flash Tool. So, it is recommended to copy the stock KDZ firmware file for your LG V20 model device as a backup.