Asus has recently launched the Zenfone 3 and the Zenfone 3 Zoom in its Zenfone line of smartphone series which happens to be the company's flagship lineup. The Asus Zenfone series is always known for its top-notch specifications and the battery which powers the smartphones. However, Asus is not known for providing swiftest updates to their smartphones. Now, we are getting reports of one such update being released by the company. This update solves the bugs that the users of the Zenfone 3 and the Zenfone 3 Zoom were complaining about in the past. The company has acknowledged this bugs and in a post on its forum, mentioned about the update which comes with a patch to it.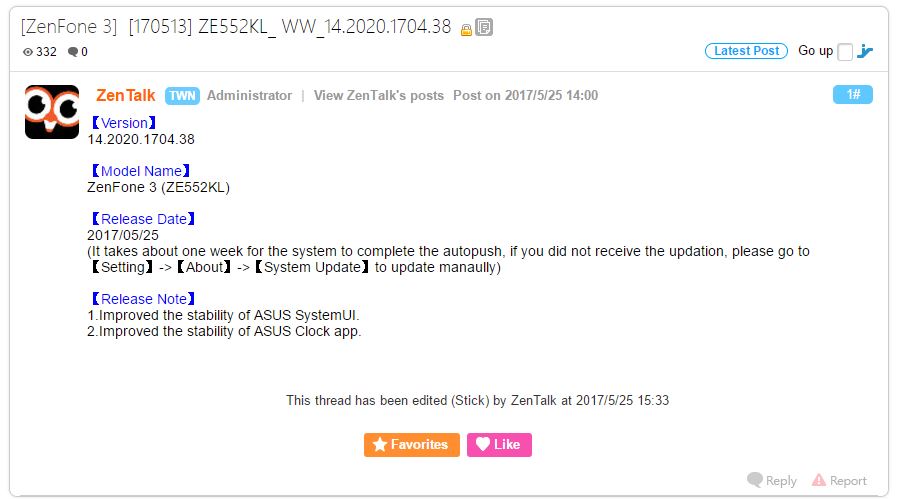 Asus is now starting to seed new updates to two of its high-end devices. The Zenfone 3 (ZE552KL) and Zenfone 3 Zoom (ZE553KL) are receiving OTA updates going by software versions 14.2020.1704.38 and 11.41.87.2 respectively. The Zenfone 3 is receiving improvements to both the Asus SystemUI and Asus Clock app along with other under-the-hood improvements. As for the Zenfone 3 Zoom, the update brings improvements to the camera, fixes the WiFi hotspot issue for a certain operator and also includes other necessary performance enhancements and customary bugs fixes.
This bugs ,however small they maybe have affected the overall user experience of the smartphones and have caused the phone to under perform quite a bit. It is recommended to download the update to your Asus Zenfones as soon as possible. If you own either of these two sets, but haven't received the update notification for the same, it may take some time for the update to hit your device. This is because Asus takes about a week or two to completely roll out the update in batches. You can also try checking manually in Settings » About» Software update. Stay tuned for more on Asus Zenfone updates.